How our rapidly rising interest rates impact you as a buyer.
Our mortgage rates were hovering just over 3% at the beginning of this year. Moving into Q2, they've continued to rise, and by April 1, rates had hit 5.18% for a 30-year fixed mortgage. That's a 2% increase over four short months, so how does this affect you?
A lot of buyers weren't sure what rates would do at the start of the year. Some thought they'd stay at 3%, but they've obviously increased. That may have impacted some buyers who were waiting and directly affected their purchasing power.
The last time we saw rates like these was back in 2019, but even then, they were closer to 4%. It's been a few years since we've had interest rates this high, so we wanted to include this chart, which shows you how interest rates will affect your budget and monthly payment: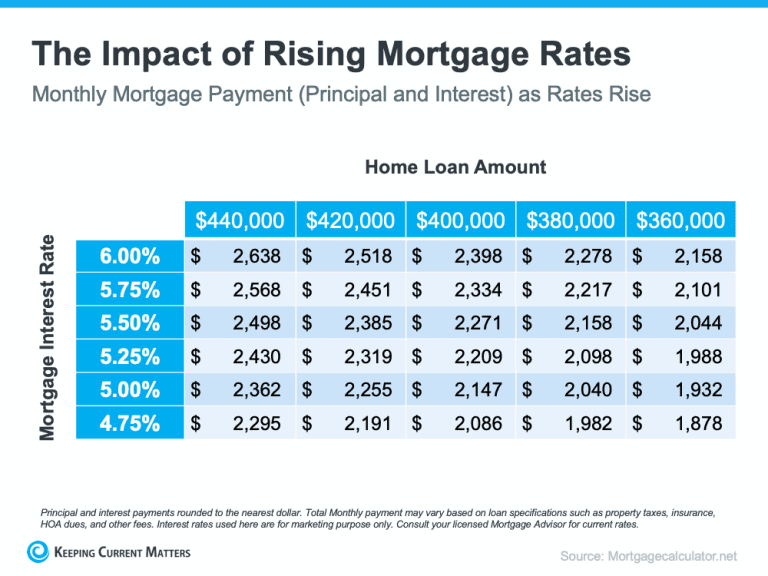 With a $440,000 loan and a 4.75% interest rate, your payment would be $2,295 per month. If we move up to where our current rate is at 5.2%, that monthly payment increases to $2,340 a month. If interest rates keep rising at the current pace and hit 6%, the monthly payment would be $2,638.
Interest rates will affect both your monthly budget and your purchasing power. Instead of deciding to wait, today's rates should motivate you to buy a home as soon as possible. Your first step should be to talk to your lender, see what your budget is, decide what you're comfortable with, and know what you're pre-approved for.
Depending on what type of property you're purchasing, your lender also might have different products for you. The loan industry isn't a one-size-fits-all business.
If you ever have any questions, feel free to call me at 305-481-3317 or email me at natalie@cbschmitt.com. You can also reach out to my partner Lela at 305-395-0814 or Lela@CBSchmitt.com. Additionally, feel free to start your home search on​ our website!